Reg. Year / Month
2015 / August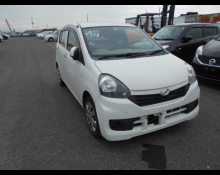 Stock ID:
KAR-45211
Daihatsu Mira 2015 e:S
Reg. Year:
2015
Location:
Japan
Price FOB:
ASK
Price CNF:
ASK
Fields with an asterisk(*) are required
Reg. Year / Month
2015 / April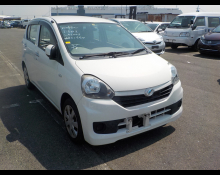 Stock ID:
KAR-44139
Daihatsu Mira 2015 e:S
Reg. Year:
2015
Location:
Japan
Price FOB:
ASK
Price CNF:
ASK
Fields with an asterisk(*) are required
Japanese Used Cars For Sale In Uganda At Best Price
World's Leading Cars Manufacturing Country
The history of Japan's vehicle industry is as old as the country itself. However, since the 1950s Japan has grown into one of the world leaders in car manufacturing and today it manufactures more than 15 million cars each year (more than any other country on the planet). The majority of these vehicles are exported to countries all over the globe – including Uganda – and this trend doesn't show signs of stopping anytime soon.
Japanese Cars are Popular in Africa
The growth of Japanese cars' popularity across Africa can be attributed to several reasons, such as their high build quality, value for money, and adaptability to harsh road conditions. One thing many Africans appreciate about Japanese cars is the fact they are very fuel-efficient which is good news for those looking to make their money stretch as far as possible. If you want a cheap, reliable car that will go the distance then read on to find out more about Japanese used cars for sale in Uganda at the best price.
Top Japanese Brands which are Famous in Uganda
The most popular Japan car brands being imported into Uganda are Toyota, Honda, Nissan, Suzuki, Mitsubishi, and Mazda. These are just a few of Japan's most famous automotive companies but there are hundreds of manufacturers so if you can't see your preferred brand here don't give up hope! Just contact us at Karmen Ltd to see what we have available today.
Uganda Cities where Japanese Vehicles are most popular
All across Africa, people love Japanese used cars for sale in Uganda at the best price and import hundreds of second-hand vehicles from Japan to Uganda. Some of the popular cities where Japanese vehicles are most popular are Kampala, Gulu, Lira, Mbarara, Jinja, Bwizibwera, and Mbale.
Best Reselling Models in Uganda
Some of the Japanese vehicles that have the highest resale value in Uganda are Toyota Vitz, Fielder, Axio, Corolla, Premio, Ractis, Probox, land cruiser Prado, Noah, Suzuki Wagon R, Suzuki Solio.
Japan Cars Last a Long Time
As I mentioned earlier it is not necessary to import a brand new car because you can get good-conditioned vehicles cheaper than what they cost in Japan and these vehicles will serve you for a long time.
Advantages of buying Japanese Vehicles
There are both good and bad things about buying Japanese used cars for sale in Uganda but the main advantage is that when you buy a car from Japan, it has much less mileage than when it is being used in Japan. Consequently, it is a good idea to buy a car that was only used for several years because this means that the parts should last a long time.
On the other hand, you have to be careful when buying a car from someone who cannot prove its history and be very wary if you are offered a vehicle with unusually low mileage or one that has been involved in an accident.
In addition, any modification made by the previous owner should always be reversed before driving your vehicle on Ugandan roads because these modifications can damage the engine. I would advise against driving Japan vehicles at all unless you know what you're doing.
If you are looking for Japanese used cars for sale in Uganda please contact us at our website about the vehicles we have available.